Happy fall! I hope you're enjoying the cooler temperatures by spending some time in one of Austin's many beautiful parks and green spaces. I'm reaching out today to share your monthly update on our ongoing efforts to bring back the beloved Zilker Train. We are thrilled to report that this project is chugging right along!
Last month, we told you that crews were busy making some repairs to the track. Now, those repairs are about 90% complete! We also told you that our team of experts was working on retrofitting the train coaches with airbrakes to ensure they're safe for passengers. That process is now about 75% complete. All parts have been fabricated, and now they're just awaiting the brake cylinder delivery, which is expected to happen any day now.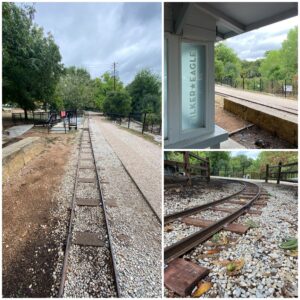 If there are no unforeseen complications, we're hopeful that the new and improved Zilker Eagle will enter the testing phase in late fall/early winter, with the train opening to the public shortly thereafter. If you have any questions, please don't hesitate to contact me or Angela Osborn, APF VP of Marketing & Development, at any time.
Colin Wallis
Chief Executive Officer
Austin Parks Foundation